Lørdag 9. juli (flyttet fra fredag 8. juli) feirer vi Seljumannamesse, festen for St. Sunniva og hennes ledsagere. I den anledning reiser vi på dagstur til Selja. Der vil vi feire messe i klosterruinene. På hjemveien stanser vi ved St. Jetmund kirke på Åheim, Vanylven.
08.00 Avreise fra Vår Frue kirke, Ålesund
08.30 Ferje Sulesund-Hareid
09.45 Ferje Årvik-Koparnes
11.00 Ankomst Selje
11.30 Båt til Selja
11.45 Prosesjon fra Bø til Klosterruinene
12.30 Høymesse
15.30 Båt fra Klosterruinene
16.30 Vesper St. Jetmund kirke, Åheim
18.00 (evt. 18.30) Ferje Koparnes-Årvik
19.00 (evt. 19.30) Ferje Hareid-Sulesund
20.00 (evt. 20.30) Ankomst Vår Frue kirke, Ålesund
Båten fra Selje til Selja koster 220 kroner tur/retur. Dette betales på Turistkontoret i Selje. På Selja legger båten til kai to steder: Ved Bø og ved klosterruinene. De som vil gå i prosesjon (ca. 45 min) går i land på Bø; de andre går i land ved klosterruinene. Efter messen har vi litt tid ute ved klosterruinene, slik at vi kan spise vår niste og be i den hellige hulen. Man må altså ta med nistemat.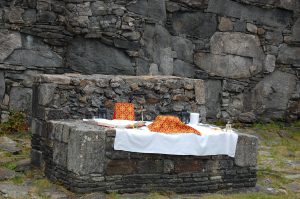 Påmeldingsfrist: Onsdag 29. juni. Vi reiser i privatbiler. De som trenger skyss, må melde fra om dette.
Påmelding: alesund@katolsk.no